Indian president 'rejects mercy plea' for Veerappan gang accused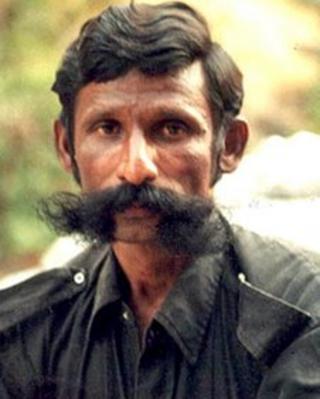 India's president has rejected clemency pleas for four men accused of being associates of notorious bandit Veerappan, according to reports.
Their families were told by prison authorities in the southern state of Karnataka where they are being held, activists and media reports say.
The four men were found guilty of a 1993 blast blamed on Veerappan's gang that killed more than 20 police.
Sentenced to death in 2004, the men have always maintained their innocence.
Veerappan was considered India's most ruthless and daring bandit until he was killed by police in 2004.
Tall and wiry with a handlebar moustache, Veerappan was accused of more than 100 murders, as well as kidnapping, smuggling and poaching.
No mercy
The four men facing execution for being part of his gang - named as Gnanaprakash, Simon, "Meesai" Madaian and Pilavendran - are currently housed at Belgaum prison in Karnataka.
"We understand that the prison authorities have told the four men that their mercy petitions have been rejected by the president," Balamurugan, general secretary of the People's Union for Civil Liberties in Tamil Nadu, told BBC Tamil's Swaminathan Natarajan.
President Pranab Mukherjee's reported dismissal of the mercy petitions comes just days after he rejected clemency for a Kashmiri man, Afzal Guru. He was hanged in secret at the weekend for plotting a deadly attack on India's parliament in 2001.
More than 120 people were tried in connection with the 1993 landmine at Palar in Karnataka. Most were acquitted.
The four men facing execution were initially given life terms in jail. When they appealed, the Supreme Court took the rare decision to recommend they be given death sentences.
The daughter of Pilavendran, one of the men, said he was innocent.
"My father was never part of the Veerappan gang. He did not participate in any criminal activities. In fact he was working in Erode district far away from location of the landmine attack but he was picked up and tried," Josephine Pasca Mary told BBC Tamil.
Activists now plan further appeals in the courts.
"All the accused were arrested in 1993 and are in prison for 19 years," Balamurugan said. "In 2004 they gave their mercy petition to the president and only now they got the reply. We will say keeping them on death row for over nine years violates their rights."
Executions are very rare in India - Afzal Guru's was only the second since 2004. Before him Mohammed Ajmal Kasab, the sole surviving attacker from the 2008 Mumbai attack was executed in November.