Militants killed in southern Thailand attack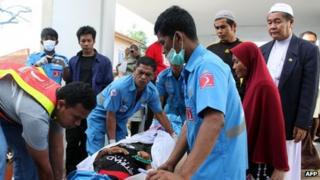 Thailand's military says its troops have killed 16 militants who stormed a base in the violence-hit south of the country.
The attack took place before dawn on Wednesday in Narathiwat province, near the border with Malaysia.
No military casualties were reported in the attack, which the Thai army said had involved dozens of militants.
Thailand's three southernmost provinces have been plagued by unrest in recent years.
More than 5,000 people have been killed since a decades-old separatist campaign reignited in the Muslim-majority region in 2004.
Separatists carry out regular attacks, usually roadside bombings or drive-by shootings.
'Extra alert'
Wednesday's attack is the biggest loss of life in several years. Officials had earlier put the toll at 17 but revised it down.
Pramote Phromin, a spokesman for the Internal Security Operations Command, told Reuters news agency that up to 60 militants wearing military fatigues approached the base at around 01:00 (18:00 GMT on Tuesday).
Soldiers at the base had been tipped off by locals ahead of the attack, officials said.
"There have been frequent attacks this month, so every unit has been on the lookout. Officers have been assigned on a night watch at every base,'' Capt Somkiat Ponprayun, provincial marine corps special task force chief, told the Associated Press.
"This week, residents in Bacho district have also informed the soldiers of small armed movement here and there, which put us on extra alert,'' he added.
The three southern provinces of Pattani, Yala and Narathiwat were annexed to Siam, as Thailand was then known, more than a century ago. Most of the residents are Muslims, unlike the majority Buddhist population in Thailand.
The Thai government has deployed tens of thousands of troops and police to the region, but has been unable to quell the violence.
On Sunday five soldiers were killed by suspected militants in a bomb attack in Yala, a neighbouring province.
The government has recently suggested imposing a curfew in certain parts of the region.
"If we impose a curfew then militants will find it more difficult to enter the area," Deputy Prime Minister Chalerm Yubamrung said.
A temporary curfew has been put in place in six areas in response to the attack.