Knifeman kills two in Guam attack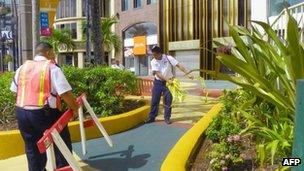 A man wielding a knife has killed at least two Japanese tourists and injured 11 in the US Pacific territory of Guam, officials say.
They say the suspect crashed his car at a shop in the Outrigger Guam Resort before starting to stab bystanders.
"He was just running back and forth stabbing people," one eyewitness was quoted as saying by the AP news agency.
The motive of the attack was not immediately clear and the 21-year-old man has been arrested.
Earlier reports quoted Guam police as saying that three people were killed, but they have since said that there were two fatalities.
The suspect has been charged with two counts of murder, attempted murder and aggravated assault, a police spokesman said.
Yoshihide Suga, Japan's chief cabinet secretary, has confirmed the deaths of the two Japanese tourists. Kyodo news agency said they were both women.
"We are shocked and grieving with the families of those who were injured and who died," Guam Governor Eddie Calvo said in a statement.
A woman at a nearby cafe said she first saw a car hitting a shop and then the driver getting out and starting attacking people around him.
"He started stabbing someone, and I started freaking out," Ashley Quichocho told Guam's Pacific Daily News newspaper.
She added that she then ran to a nearby hotel to hide from the attacker.
Visitors from Japan are the mainstay of Guam's tourist industry.