World's largest captive crocodile Lolong dies in Philippines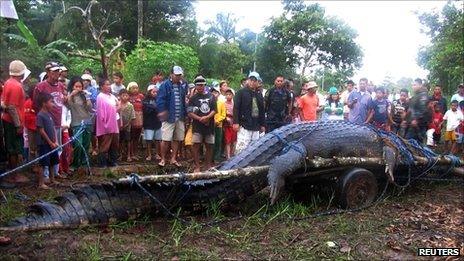 The largest saltwater crocodile in captivity has died in the Philippines.
Officials said the six-metre reptile, weighing more than 1,000kg, flipped over with a bloated stomach and was declared dead several hours later.
The crocodile, blamed for the death of at least one person, was caught in September 2011 and then became the star attraction of an eco-tourism park.
It was formally declared the world's largest in captivity by Guinness World Records last year.
The crocodile, which was given the name Lolong, was captured in the town of Bunawan after a three-week hunt involving dozens of people.
The giant reptile, which measured 6.4m (21ft) and weighed in at 1,075kg (2,370lb), had begun to draw local and foreign tourists to the town.
Bunawan Mayor Edwin Elorde said Lolong had been off colour for a month.
"He refused to eat since last month and we noticed a change in the colour of his faeces," he told the Philippine Daily Inquirer newspaper. "Our personnel also noticed an unusual ballooning of the reptile's belly."
Local vet Alex Collantes said that unseasonably cold weather could have affected the crocodile.
Mr Elorde told the Inquirer wildlife experts would conduct an investigation into the death and said he hoped Lolong's body could be preserved.
"In that way, people can still look and marvel at him," he said.
Australian media say the mantle of largest saltwater crocodile in captivity may now pass back to Cassius, a 5.48m reptile housed at a crocodile farm near Cairns in Queensland.