UN report of Afghan child casualties false, says Isaf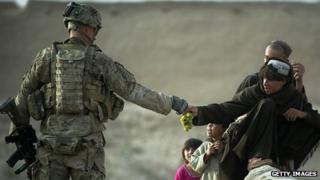 The Nato-led force in Afghanistan has rejected a UN report accusing the US of killing hundreds of children in air strikes over the past four years.
The number of child casualties had doubled in 2010-2011 due to a "lack of precautionary measures and use of indiscriminate force", the study found.
The Nato force called the claims "categorically unfounded" and "false".
The issue of civilian deaths by Nato forces has caused tensions between the US and Afghan President Hamid Karzai.
Hundreds of children are reported to have died "as a result of attacks and air strikes by the US military forces in Afghanistan" between 2008 and 2012, according to the UN Committee on the Rights of Children.
The committee also expressed "grave concern" that the number of casualties of children had doubled in the space of one year.
'Strict rules'
But the Nato-led International Security Assistance Force (Isaf) said allegations of indiscriminate force used by US troops during their Afghan operations were "unsubstantiated."
"The committee's assertion that US troops do not exercise precautionary measures is entirely false," Isaf said in a statement.
"Isaf and US Forces Afghanistan take precautions to employ force only when necessary, and in a proportional manner. Strict rules apply to the use of air-delivered munitions, particularly when civilians may be present and whenever there is a possibility of striking a civilian structure."
While coalition forces are "sometimes responsible for civilian deaths", insurgents kill the majority of civilians, Isaf said, citing a UN report released last August.
Coalition forces had reduced civilian causalities by 49% in 2012 compared to the previous year, it said. The number of children killed as a result of US air strikes had dropped by nearly 40% during that period, it added.
"Protecting Afghan people is a cornerstone of the Isaf mission," the force said, reiterating a shift in US military tactics begun in 2009.
Under then-US commander Gen Stanley McChrystal, the focus switched from leading an all-out war against the Taliban and its allies to "winning the hearts and minds" of Afghan civilians.
But despite the change in approach, Nato has been repeatedly forced to apologise over causing civilian deaths in recent years.
Last June, 18 civilians reportedly died when Nato struck a village in Logar province during an anti-Taliban operation. One month earlier, several members of an Afghan family died in an air strike in Paktia province.
The worst incident took place in September 2009 when 91 civilians, including women and children, were killed in an US air strike in Kunduz province.
The widespread reports of civilian deaths during air strikes continue to draw angry criticism from President Karzai.
Mr Karzai has repeatedly warned that civilian casualties caused by Nato could undermine the strategic partnership agreement he has signed with the US.
The 10-year accord outlines military and civil ties between the countries after the end of Nato's mission in Afghanistan in 2014.