Karachi strike: Anger over sectarian violence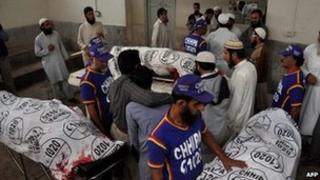 A strike called by religious groups to protest against a wave of sectarian violence has paralysed the Pakistani city of Karachi.
Schools and businesses were closed and there were isolated reports of gunfire and vehicles being set alight.
The Wifaqul Madaris and other religious parties called the strike to protest against the recent killing of clerics.
Last month a senior Sunni Muslim cleric from a high-profile Muslim seminary was killed in a targeted attack.
Abdul Majeed Deenpuri, 60, and two others were shot dead when a gunman opened fire on their car.
He was a leading figure of the strict Sunni Muslim institution, the Jamia Banuri Uloom Islamia. Police suspect it was a sectarian attack.
Reports say Sunni Muslim religious groups have been angered by the failure of police to apprehend any suspects in that case.
In the northern city of Peshawar a senior Shia Muslim lawyer was shot dead early on Friday. Malik Jarar Hussain had recently been nominated as a judge, reports say.
Lawyers in the city are also on strike and staging a sit-in outside the governor's house to protest against recent killings.
Sectarian violence between extremist members of Pakistan's majority Sunni and minority Shia communities has resulted in the deaths of hundreds of people over the past 20 years.