China rejects Japan radar-lock allegation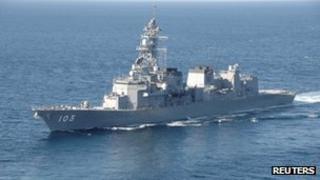 China's Defence Ministry has denied Japanese allegations that its navy ships twice put a radar lock on Japanese military vessels last month.
Japan's remarks "were against the facts", a statement on its website read. On neither occasion cited by the Japanese side had the Chinese vessel used its fire-control radar, it said.
It urged Japan to "stop stirring up tension in the East China Sea".
Japan said the Chinese explanation did not match the facts.
The two nations are embroiled in a bitter territorial row over East China Sea islands, called Senkaku in Japan and Diaoyu in China. Japan controls the islands, which are also claimed by Taiwan.
Since the row reignited in September 2012, Chinese vessels have been sailing in and out of what Japan says are its territorial waters around the islands, prompting warnings from Tokyo.
Earlier this week, Japan's Defence Minister Itsunori Onodera said a Chinese navy frigate close to the islands had locked its weapon-targeting radar on a Japanese navy ship on 30 January.
He said a Japanese military helicopter was also targeted with a similar type of radar by another Chinese frigate on 19 January.
The Chinese Defence Ministry, in its statement, said that in each incident, the Chinese vessel "kept normal observation and alert, and fire control radar was not used".
"China hopes that Japan take effective measures to stop stirring up tension in the East China Sea and making irresponsible remarks," it said.
The Japanese foreign minister dismissed the denial, which he said the Defence Ministry had made to the Japanese embassy in Beijing on Thursday.
He said the explanation from the Chinese side "does not conform to the facts and is completely unacceptable, and I have responded to them as such".