Kashmir girl band: Three arrested for threats to Pragaash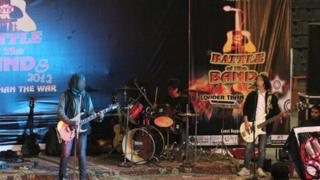 Police in Indian-administered Kashmir have arrested three people for making online threats to members of Pragaash, an all-girl rock group.
The teenagers, described as "un-Islamic" by the region's most senior cleric, quit singing earlier this week.
On Tuesday, one band member queried why they had been criticised when male bands were allowed to perform.
Meanwhile a leading human rights group in Kashmir said it would file a case against the cleric.
"We are filing public interest litigation in the high court here, against Mufti Bashir who is a self-appointed cleric. Civil society will challenge his legal status and his right to question peoples' choice of recreation," Parvez Imroz, who heads the Coalition of Civil Society, told the BBC's Riyaz Masroor.
The band members say they have received abuse and hate mail on Facebook since they made their first live appearance at the Battle of the Bands music festival in Srinagar in December.
A band member interviewed by the BBC on Tuesday said that their intention was not to disrespect Islam.
Police later said they had registered a case and begun investigations into allegedly intimidating comments posted on Facebook against the group.
"I'm glad the police in Kashmir have identified and arrested two people for the online threats made to the girls," Jammu and Kashmir Chief Minister Omar Abdullah wrote on his Twitter account on Thursday morning.
"I'm told more arrests [are] possible," he added.
A little later, police confirmed to the BBC that a third man had been arrested and that they were looking for a fourth man.
'Indecent behaviour'
On Sunday the Muslim-majority state's grand mufti criticised the girl band for what he said was indecent behaviour.
"When girls and young women stray from the rightful path... this kind of non-serious activity can become the first step towards our destruction," Grand Mufti Bashiruddin Ahmad said in a statement.
However, many others have leapt to the girls' defence.
Support for the band has poured in from all over the state and elsewhere in India, where the story has been headline news.
Jammu and Kashmir is India's only Muslim-majority state and has been the scene of a violent insurgency against Indian rule since 1989.
The region has a long history of women dancing and singing in public at festivals and marriages, even though some clerics oppose such behaviour.