Teams start assessing tsunami-hit Solomon Islands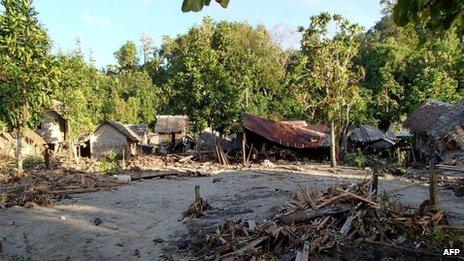 Aftershocks continued to rock the Solomon Islands, a day after a powerful earthquake triggered a tsunami that left at least nine people dead.
A metre-high wave swamped several villages on Santa Cruz island, in the far east of the Pacific nation, after the quake early on Wednesday.
Aid teams are starting to assess the scale of damage in the remote region.
Dozens of houses were damaged or swept away in at least five villages and a number of people are still missing.
A number of aftershocks have struck since the initial magnitude 8.0 earthquake. One, on Thursday morning, had a magnitude of 6.2, the US Geological Survey said.
Six people - five elderly villagers and a child who were sucked under by the water - have been confirmed dead.
Another three bodies were found on Thursday, said George Herming, a spokesman for Prime Minister Gordon Darcy Lilo.
"Several others are missing and dozens of strong aftershocks were keeping frightened villagers from returning to the coast," the AFP news agency quoted him as saying.
"People are still scared of going back to their homes because there's nothing left, so they are residing in temporary shelters on higher ground."
Red Cross disaster manager Cameron Vudi told AFP there were indications that the number of casualties could increase.
"There are still reports coming in. Most of the reports are confined to areas that are accessible by road but there are a lot more communities that have been damaged."
The National Disaster Management Office said up to 3,000 people were believed to have been displaced, but that it was too early to have a clear picture of the extent of the damage in Santa Cruz province, known as Temotu.
"The high number of aftershocks and the difficulties inherent in accessing Temotu makes gathering swift accurate information a challenge," the agency said in a statement quoted by New Zealand media.
"The concern is for the more remote areas of Temotu where no reports have been forthcoming thus far."
Santa Cruz island, also known as Nendo, is the largest island in the Santa Cruz island chain which lies more than 600km (370 miles) from the Solomons capital, Honiara.
Radio New Zealand said one aid team had arrived by helicopter but that the airstrip in Lata, the island's main town, was swamped by the tsunami and left littered with debris.
It quoted the premier of Temotu province, Father Charles Brown Beu, as saying work was going on to clear the runway, and that "any time tomorrow or the following day airplanes should be landing".
Boats carrying supplies are expected to leave Honiara later in the day but are not due to arrive at the island until the weekend, AFP news agency said.
Police teams based in Lata were also trying to reach areas to assess damage, a government statement said.
Related Internet Links
The BBC is not responsible for the content of external sites.