Bin Laden city Abbottabad to build amusement park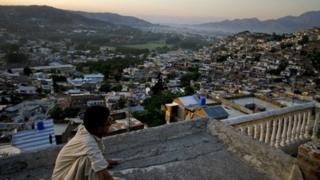 The Pakistani city where Osama Bin Laden was found and killed by US special forces is building an amusement park in the hope of boosting tourism.
The park has no link to the al-Qaeda leader, who was discovered living in a compound in Abbottabad in 2011.
Instead, it will boast a zoo, water sports, mini-golf, rock-climbing and a paragliding club, officials in Khyber Pakhtunkhwa province said.
The park will cost some $30m (£19m) and take five years to build, they say.
That cost could rise to $50m with further private investment.
"The amusement city will be built on 50 acres (20ha) in the first phase but later will be extended to 500 acres," Syed Aqil Shah, Khyber Pakhtunkhwa's minister for tourism and sports told the AFP news agency.
The compound where Bin Laden lived in Abbottabad has now been demolished, and the new amusement park will not be built on the site.
Officials are reported to have earmarked the old compound for government housing units.
Instead the new venture will be located on the edge of Abbottabad, part of a major push to improve tourist facilities across Khyber Pakhtunkhwa.
"This project has nothing to do with Osama bin Laden," Mr Shah said, adding: "We are working to promote tourism and amusement facilities."
Raid reminders
Abbottabad, situated in the Himalayan foothills some 120km (75 miles) north of Islamabad, was an anonymous military garrison town before it shot to international notoriety in 2011.
The US Navy Seal raid that saw Bin Laden killed caused a diplomatic row between the US and Pakistan, which was furious the US launched the raid without its permission.
The hunt for Bin Laden and the raid itself have recently been the focus of renewed attention with the release of the film Zero Dark Thirty, which the story of the long hunt for the 9/11 mastermind.
The film is being boycotted in Pakistan, although bootleg copies are freely available.