Chinese boat 'illegally fishing in Japanese waters'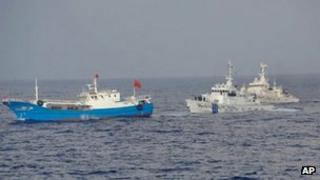 Japanese coastguards have detained a Chinese boat for allegedly fishing in a Japanese exclusive economic zone illegally, officials say, amid an ongoing row over disputed islands.
The boat with a crew of at least 12 was fishing for coral near Miyako island in the Okinawa chain.
The incident occurred about 150km (95 miles) from the disputed islands.
It came as Japanese Prime Minister Shinzo Abe vowed to defend Japan against Chinese "provocation".
"The security environment surrounding our country is increasingly becoming more severe as we face provocation to our territorial rights," he told self-defence forces in a tour of Okinawa region.
"I will take the lead to stand up against the present danger and protect the people's lives and assets, as well as our land, the seas and the air at all costs."
Both Japan and China claim sovereignty over the islands, which are located in the East China Sea, called Senkaku in Japanese and Diaoyu in Chinese.
The islands, which are controlled by Japan, lie south of Okinawa and north of Taiwan.
The dispute over ownership of the islands has been rumbling for years, but it reignited in 2012 when the Japanese government purchased three of the islands from their private Japanese owner.