Senior Pakistani cleric Abdul Majeed Deenpuri shot dead in Karachi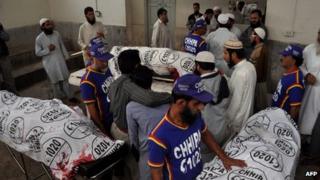 A senior cleric from a high profile Muslim seminary in Pakistan was among 13 people killed as violence hit the southern city of Karachi.
Abdul Majeed Deenpuri, 60, and two others were shot dead on Thursday when a gunman opened fire on their car.
He was a leading figure of the strict Sunni Muslim institution, the Jamia Banuri Uloom Islamia. Police suspect it was a sectarian attack.
An IED explosion and targeted killings account for 10 other deaths overnight.
CCTV footage shows that Mr Deenpuri, another cleric Mohammad Saleh, and the car's driver were killed by a gunman who was waiting near the eastern Nursery neighbourhood, police quoted by the AFP news agency say.
"When the car slowed down near a traffic intersection, he opened fire to stop it and then attacked them at close range," a senior police official who did not want to be named told AFP.
Sectarian violence between extremist members of Pakistan's majority Sunni and minority Shia communities has resulted in the deaths of hundreds of people over the past 20 years.
Four people were killed when an improvised explosive device (IED) placed alongside a stationary car exploded in the Sohrab Goth neighbourhood of the city.
It is not clear if those who were killed were passers-by or those responsible for planting the bomb. The area is reported to have a heavy Taliban presence.
A subsequent police search of the car revealed five more IEDs inside it - all linked to each other and connected to the dashboard. Officials say that there were approximately 300kg (47lb) of explosives packed into the car.
That is nearly half the size of the truck bomb that hit Islamabad's Marriott hotel in September 2008.
It is not clear what the target of the bomb was, but police believe the explosion went off earlier than intended.
The remainder of those killed were kidnap victims whose bodies were recovered by police. Targeted killings and abductions of ethnic, political and sectarian rivals in Karachi have taken place for several years.
Interior Minister Rehman Malik said on Wednesday night that a "new wave of terrorism" was spreading across southern Pakistan, including Karachi and nearby Balochistan province.