Japan judo coach 'beat top female athletes'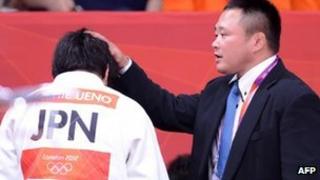 Japan's top female judo wrestlers were subjected to violence by their coach, officials have admitted.
The acknowledgement followed a complaint by 15 athletes to the Japanese Olympic Committee in December.
In the complaint, the group said that they had been slapped and hit with wooden swords by their head coach, local media said.
The All Japan Judo Federation (AJJF) said head coach Ryuji Sonoda had acknowledged the claims.
"We received information that Mr Sonoda, the head coach of the female national team, might have been physically bullying athletes," said AJJF head Koshi Onozawa.
"Our executive office took this seriously and questioned both him and athletes, discovering the charges were largely true," he told a news conference.
The AJJF said it would not release the name of the athletes involved.
Mr Sonoda had received an official warning, Kyodo news agency reported, as had other coaching staff.
"Until now I have been doing things the way I saw fit, but I will mend the things that need fixing," the agency quoted him as saying.
Japan's Sports Minister Hakubun Shimomura said if true, the allegations were "deplorable".
The use of physical punishment in the Japanese sporting arena is not new - in 2007 the head of a sumo stable was fired by the sport's national body over the treatment of a 17-year-old wrestler who died after being beaten during practise.
But the issue has been in the spotlight since the suicide in December of a high school student after beatings from his basketball coach.