US blacklists Afghan airline accused of smuggling opium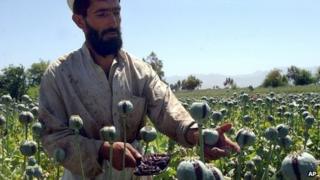 Afghanistan's largest private airline, Kam Air, has been barred from receiving US military contracts amid allegations of drug smuggling, officials say.
The US military says it conducted an investigation which showed Kam Air transported large quantities of opium on civilian flights to neighbouring Tajikistan.
The Central Asian country is a key transit route used by drug smugglers.
The airline's owner has firmly rejected the allegations.
Zemary Kamgar said that he was consulting with his lawyers over the US move and that his legal team would prepare a defence.
The blacklisting of Kam Air first came to light in an article in the Wall Street Journal on Friday.
Correspondents say that Kam Air is the first major Afghan company to be penalised by the US military over drug allegations.
It is not clear exactly how much business the company - which correspondents say has mounting debts - will lose as a result of the US move.
US military spokesman Lester Carroll told the BBC that the decision to blacklist Kam Air was taken after an investigation was made into the drug smuggling allegations.
"The commander of Central Command authorised the contracting agencies not to do business with Kam Air based on information that was in the investigation," he said.
Mr Kamgar said that the allegations were "insulting to thorough security checks" conducted by Afghan and Tajik forces.
He said that while he had not received written confirmation of the US moves against Kam Air, the blacklisting could also be the work of competitor companies eager for a share in transporting military equipment.
The drug smuggling allegations have also been strongly denied by Afghan Transport Minister Daud Ali Najafi who told the BBC that security checks at Kabul international airport are very tight.
"It is impossible to smuggle drugs using civilian flights," he said, "because the private security company at the airport checks all crew members, baggage, passengers and the plane itself before permission is given for any flights [to take off]."
Correspondents say that the US move comes at a time of growing concern among Western countries over Afghanistan's burgeoning drug trade.
While a UN Office on Drugs and Crime (UNODC) report in November said that opium production in Afghanistan had fallen by a third, it also said that the amount of land used to cultivate the crop rose by 18%.
Kam Air operates a fleet of some 16 planes, including Boeing 767s and 747s - and Antonov cargo planes which fly to many destinations.
Its only scheduled Central Asian passenger route is between Kabul and Dushanbe, the capital of Tajikistan, a country whose porous borders and political instability experts say makes it a popular transit route for drug smugglers.