Antarctic search for missing plane carrying Canadians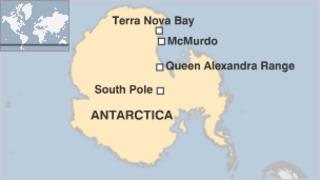 A search is under way for a plane with three Canadians that has gone missing in Antarctica, officials say.
The Twin Otter aircraft was flying from the South Pole to an Italian Antarctic base when its emergency beacon was activated at 10:00 GMT on Wednesday.
The signal is coming from the remote Queen Alexandra Range, which lies in New Zealand's rescue sector.
New Zealand rescue authorities are co-ordinating the search with US officials at the McMurdo Antarctic station.
A US Hercules plane has already flown to the mountainous area, failing to spot any sign of the missing aircraft.
Bad weather is hindering search efforts, with officials now saying they want to set up a temporary base closer to where the beacon is transmitting to widen the operation.
There are hopes that the three Canadian men - who were heading to the Italian base at Terra Nova Bay - are still alive.
"If the beacon is operating... that's a good sign as a heavy landing can tend to prevent the beacon working," Steve Rendle from the Rescue Co-ordination Centre New Zealand (RCCNZ), told Radio New Zealand.
He added that another plane would go to the area to continue the search.
Unconfirmed reports say the missing men are employed by Canada's Kenn Borek Air company. Their names have not been released.