Vietnam to produce own poison for executions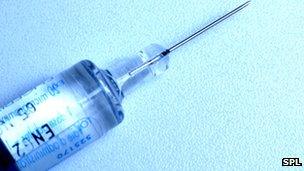 Vietnam says it is to begin producing home-grown poisons to be used in the execution of prisoners.
The move comes after overseas producers refused to export the drugs which are legally required for lethal injections.
More than 500 people are on death row in Vietnam for crimes including drug trafficking, rape and corruption.
The country stopped using firing squads for executions in 2011, citing the rising cost, a lack of suitable grounds and the stress caused to executioners.
The authorities have installed the equipment for carrying out lethal injections and trained staff to use it, but have been unable to buy the three-stage drugs which are required by law.
The supplier would be the EU, but it strictly controls the export of any drugs which could be used for capital punishment, torture or inhuman treatment.
Vietnam's Minister for Public Security Tran Dai Quang said legal amendments would be being introduced to allow for domestic poisons to be used, rather than those stipulated by law.
He gave no details about the nature of the new drugs.
Some members of the Vietnamese government have proposed a return to firing squads to deal with the build-up of death row inmates.
One member is reported to have suggested that the death penalty be reserved for only the most serious crimes.