Archaeologists believe no Spitfires buried in Burma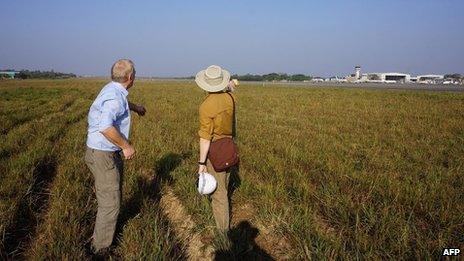 Archaeologists hunting for World War II Spitfires in Burma believe there are no planes buried at the sites where they have been digging, the BBC understands.
The archaeologists have concluded that evidence does not support the original claim that as many as 124 Spitfires were buried at the end of the war, the BBC's Fergal Keane reports.
Wargaming.net, the firm financing the dig, has also said there are no planes.
But project leader David Cundall says they are looking in the wrong place.
He told the BBC that he feels very frustrated but is determined to keep up his campaign, and remains convinced Spitfires are buried in Burma.
Asked if he would apologise if he was proved wrong, he replied: "Of course I will. But I've tried and I believe it's better to have tried and failed than not to have tried at all."
An initial survey of the site began in early January, with excavations due to begin after that.
A scheduled press conference was cancelled on Friday morning by Wargaming Ltd, with a spokesman saying he hoped to give more details later.
When pressed, the spokesman said there are no Spitfires, our correspondent says.
British campaigner David Cundall has spent the last 17 years trying to discover the truth of claims that unused, unassembled Spitfires were packed into crates and buried by the RAF at sites in Burma on the orders of Lord Mountbatten at the end of the war in 1945.
He has collected eyewitness accounts from American and British service personnel as well as local people.
One of them, British veteran Stanley Coombe, had travelled to Burma to witness the excavation.
The dig got the go ahead after it secured funding from Belarusian video games firm Wargaming.net, and received permission from Burmese President Thein Sein during a meeting with British Prime Minister David Cameron last year.
Mr Cundall maintains that as many as 124 Spitfires are buried in sites around Burma.
Before the dig, scientists had discovered large concentrations of metal under the ground around Rangoon's airport, lending support to the theory that up to 36 planes are buried there.
Earlier this month, a crate was discovered in the Kachin state capital Myitkyina, but muddy water stopped an immediate identification of its contents.
The central city of Meiktila was another site identified as a possible burial ground for the Spitfires.
[an error occurred while processing this directive]
The wing is tapered to minimise drag and the trailing edge of the wing twists slightly upward to the tip. This shape makes the Spitfire hard to stall and encouraged the pilots to fly it to its limits
[an error occurred while processing this directive]
The Spitfire was built around the Rolls-Royce Merlin engine, though later Spitfires, like this Mark XIV pictured, used the even more powerful Griffon engine
[an error occurred while processing this directive]
The Spitfire could climb quicker and turn harder than many other fighters. As a result Spitfire squadrons had a higher victory-to-loss ratio in the Battle of Britain than those flying Hurricanes
Features like the retractable undercarriage and sealed cockpit were relatively new in the 1930s and the design was updated throughout the war