Thai comedian and 'red-shirt' leader jailed for royal insult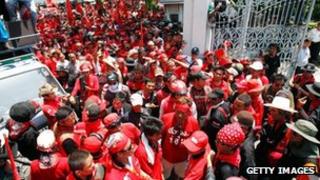 A prominent member of Thailand's "red-shirt" political movement has been jailed for two years for insulting the monarchy in a 2010 speech.
Activist and comedian Yossawaris Chuklom, who uses the stage name Jeng Dokchik, made the speech at a rally in Bangkok during political protests.
People found guilty under Thailand's strict lese majeste laws can face up to 15 years in prison.
Critics of the law say it has been used to suppress free speech.
Thailand has endured political upheaval since a military coup in 2006 which ousted then Prime Minister Thaksin Shinawatra, who went into exile.
In March 2010, "red-shirt" protesters - many of whom supported Mr Thaksin - occupied key parts of the capital, Bangkok, demanding the government of then Prime Minister Abhisit Vejjajiva step down.
More than 90 people, both civilians and soldiers, were killed in the protests, which went on for over two months.
A lawyer for Mr Yossawaris said he had originally been sentenced to three years but that the judge reduced it to two because he had given useful evidence.
Thamrong Lakdaen said his client intended to appeal against the verdict, and would apply for bail.
Mr Yossawaris currently serves as an advisor to Thailand's deputy commerce minister in a government led by Mr Thaksin's sister, who won elections in 2011.
Thailand's lese majeste laws are intended to protect the monarchy, headed by 85-year-old King Bhumibol Adulyadej.
But critics say they have been increasingly politicised and used to curb free speech.
The discussion intensified after a Thai man in his 60s who was jailed for 20 years for sending text messages deemed offensive to the royal family died in prison last year.