Pakistan: Bomb rips through Waziristan convoy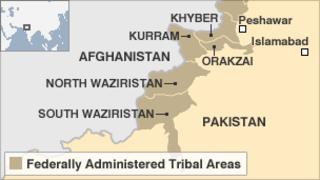 A roadside bomb has killed at least 14 Pakistani soldiers and wounded 20 in the troubled north-western province of North Waziristan, security sources say.
One vehicle was completely destroyed in the attack in an area said to be a stronghold of Taliban militants.
Helicopters arrived at the scene of the blast, reportedly helping to ferry the wounded to hospital.
Pakistan's tribal regions have long been used as bases by both local militants and al-Qaeda.
Sunday's attack occurred near the village of Dosali, officials said.
The bomb was described as an "IED", or improvised explosive device.
No group said it had carried out the attack.
The attack came just a day after the Pakistani Taliban circulated a leaflet calling for attacks on the military to cease in the area, according to Reuters news agency.
Pakistan's security forces have been battling the Taliban in the mountains of North Waziristan for years.
More recently, US forces have used drone strikes in the region as part of their campaign against the Taliban across the border in Afghanistan.