Pakistan bombings: Quetta Shias agree to bury blast dead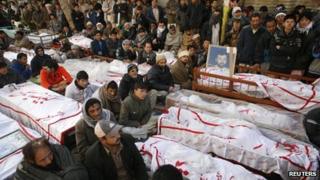 Shia Muslims in the Pakistani city of Quetta are burying their dead, four days after one of the bloodiest attacks on their community.
Funerals were delayed as Shias demanded protection and refused to bury scores of people killed in bombings last week.
On Sunday provincial leaders were sacked for failing to protect Shias.
At least 95 people were killed in a series of blasts in Quetta on Thursday, the deadliest in a mainly Shia area. Sunni militants carried out the attack.
Prime Minister Raja Pervez Ashraf met Shia protesters in Quetta on Sunday. In an overnight televised address he imposed direct rule by the governor of Balochistan province.
Vigil by coffins
The minority Hazara Shia community had demanded the removal of the provincial government and called on the military for their protection.
As relatives held vigils by the coffins of their loved ones on Quetta's streets over the last four nights, Shia Muslims around the country mounted protests to express solidarity.
Campaigners say the latest attack highlights the dangers faced by Pakistan's minority communities, with some activists saying that 2012 was the deadliest year for Shias in living memory.
The worst of Thursday's attacks targeted a snooker hall, killing 86 people - mostly members of Quetta's 500,000-strong Hazara community.
A suicide bomber detonated his device and a car bomb was detonated minutes later as police, rescuers and media arrived.
Among the dead was Quetta-based rights activist Irfan Ali, who was reportedly helping those wounded in the first blast.
The Sunni militant group Lashkar-e-Jhangvi said it carried out Thursday's snooker hall bombing, which also wounded more than 120 people.
Earlier on Thursday a bomb in a market area killed 12 and injured dozens more. Security forces appeared to be the target and a spokesman for a militant group, the United Baloch Army, said it had carried out that bombing.
Balochistan is plagued by a separatist rebellion as well as the sectarian infighting.
The Taliban and armed groups that support them also carry out attacks in the province, particularly in areas near the Afghan border.