Japan PM Abe: China handling of islands row 'wrong'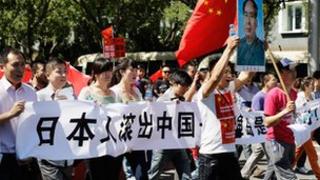 Japan's new leader has criticised China for allowing Japanese businesses to be harmed in response to the territorial row over East China Sea islands.
Prime Minister Shinzo Abe said it was "wrong" for businesses to be damaged to achieve "political objectives".
His comments came as the cabinet approved a stimulus package that includes extra defence spending.
Ties between the two countries have been strained over the islands, called Senkaku in Japan and Diaoyu in China.
Tensions increased further in September, when the previous Japanese government purchased three of the islands from their private Japanese owner.
Japan has control of the islands but both Beijing and Taipei claim ownership.
As the row gathered pace protests took place in a number of Chinese cities and several Japanese companies, particularly automakers, saw sales and operations disrupted.
"The problem is that harm is being caused to Japanese companies and Japanese nationals in China, who are contributing to the Chinese economy and society, to achieve political objectives," Mr Abe said at a news conference on the stimulus plan.
"I want to say clearly that this is the wrong behaviour as a nation which should be responsible in the international community."
Fighters sent
Chinese ships have also been sailing in and out of what Japan says are its territorial waters around the islands in recent months.
Last month, Japanese officials said a Chinese government plane had violated Japan's airspace around the islands for the first time since records began in 1958.
On Thursday Japanese fighters were also dispatched from Okinawa after Chinese military planes were seen in the area. They did not violate Japan's airspace, Kyodo News reported.
Amid the tensions, Japan's new government - elected late last year - is seeking a small increase in military spending for the first time in a decade, as Mr Abe, a conservative with a reputation as a hawk, pledged a strong stance on the dispute.
On Thursday, China spoke out against the increase.
"Due to historical reasons, Japan's neighbouring countries attach great concern to its (recent) military trends. We demand Japan draw a lesson from history and continue the road of peaceful development," Foreign Ministry spokesman Hong Lei said.
An editorial in state-run Global Times, meanwhile, urged people to "prepare for the worst" with regard to a potential clash over the islands - but then appeared to call for a pragmatic approach.
"China should have the courage to face military confrontations with any rival when provoked. At the same time, we should remain cool-headed," it said.
"China and Japan have been co-operating in trade and other economic fields. We should try not to let political confrontations affect business."
'Challenges'
The top US East Asia diplomat, Kurt Campbell, on Thursday said that the US will urge "caution and care" in the East China Sea territorial dispute.
Mr Campbell will be part of a high-level US delegation set to arrive in Japan next week for a trip that also includes South Korea.
Meanwhile, Japan was in talks with the Philippines on Thursday to enhance maritime co-operation amid their separate territorial rows with China.
"We talked about the challenges that we appear to be facing in view of the assertions being made by China," Philippine Foreign Secretary Albert del Rosario told reporters after meeting with his Japanese counterpart, Fumio Kishida, in Manila.
Part of the co-operation may include 10 new patrol vessels from Japan to boost the Philippine coast guard, as well as communication equipment, Mr Del Rosario said.