Japan boosts defence spending 'in response to China'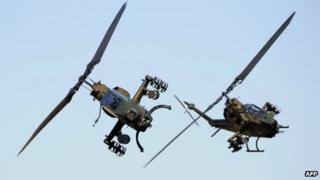 The proposed 100bn yen (£710m) boost to Japanese defence spending announced on Tuesday - which in the first instance will go on anti-missile defences and the modernisation of a small number of fighter jets - looks to be a sure sign that the country's new more conservative government is set on bolstering its armed forces in response to an ever-more assertive China.
For the past decade or so Japanese defence spending has actually been gradually falling.
But Japan's strategic outlook has nonetheless been changing in fundamental ways ever since 2010, when the then government's defence plans spelt out that the potential threat from China was looming ever larger on Japan's radar.
Indeed the centre of gravity of the Japanese defence debate has been shifting for some time - pressing up against the constraints imposed by its post-war constitution.
Its armed forces are slowly becoming more expeditionary in nature.
Japanese warships have, for example, been involved in anti-piracy operations off the Horn of Africa.
And last year, for the first time since World War II, Japanese troops were involved in training other countries' armed forces, with Japanese military engineers being involved in Cambodia and East Timor.
North Korea focus
But it is Japan's broadening strategic horizons closer to home that are catching Beijing's attention.
Japan has perhaps been alarmed at its own relative economic decline and is fearful of China's growing pre-eminence in the region.
Its response has been two-fold; firstly to step up its co-operation with the United States. It is closely co-operating with Washington on ballistic missile defences.
Last September, the US and Japan agreed to deploy a second advanced anti-missile radar on Japanese soil.
Japan is also investing heavily in Aegis-equipped warships capable of shooting down incoming ballistic missiles as well as land-based Patriot interceptor systems.
The primary focus of the anti-ballistic missile effort is, in the first instance, North Korea.
But China's assertive maritime strategy and the growing tussle over the disputed Senkaku or Diaoyu islands is driving Japan's broader modernisation.
Japan is investing in the types of aircraft, warships and surveillance systems - like drones - to better defend its interests in the East China Sea.
Recent incidents, including an overflight by a Chinese aircraft that - according to Japan - was the first Chinese intrusion into its airspace since 1958, is only likely to intensify this trend.
Heading for war?
China is watching what it sees as Japan's flexing of its military muscle with considerable unease.
But Japan, perhaps emboldened by Washington's greater interest in the Asia-Pacific - the so-called US pivot - is clearly determined not to let China have things all its own way.
Some veteran analysts have even suggested that these tensions might eventually turn into war.
What is clear is that the maritime disagreements are only part of the story.
They are emblematic of a broader strategic distrust, which if left to fester, may not provoke full-scale war, but could well lead to localised armed clashes.