Vietnam convicts 14 activists of 'anti-state plot'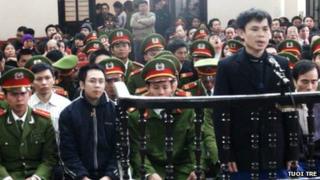 A court in Vietnam has convicted 14 political activists of plotting to overthrow the communist state.
Thirteen were jailed for between three and 13 years, while one received a suspended sentence. Most are Catholics, and they include bloggers and students.
The 12 men and two women were accused of links with the Viet Tan, an exiled organisation in the US, which Vietnam's government considers a militant group.
Rights groups have called the verdict "outrageous".
The jailed activists also face house arrest of between three and five years on their release, Viet Tan says.
The sentences are among the harshest given to any political dissident in Vietnam in recent years, says Nga Pham of the BBC's Vietnamese service.
She says the trial attracted much public attention because there were so many defendants, and most were Roman Catholics.
Hundreds of policemen were sent to the courtroom in the city of Vinh, in Nghe An province, for the two-day trial.
US criticism
"All of these defendants, including alleged ringleader Ho Duc Hoa, were imprisoned for exercising their rights in activities that should have never been criminalised in the first place," said Phil Robertson, deputy director of Human Rights Watch's Asia division.
"It's outrageous that the authorities targeted Ho Duc Hoa's involvement in volunteer activities intended to help the poor and improve the quality of life in his community as proof of a desire to somehow overthrow the government."
The US embassy in Hanoi issued a statement criticising the sentences, saying the accused were only exercising their right to freedom of expression.
Charges of spreading anti-state propaganda and attempting to overthrow the government are often made against dissidents in Vietnam.
An appeals court in December upheld the sentences of two prominent bloggers jailed in September for "anti-state propaganda".
One received 12 years and the other 10 years in jail after a brief trial.