Vietnamese activists accused of subversion go on trial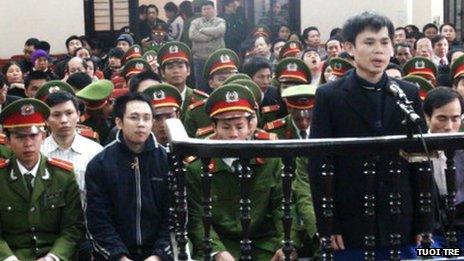 Fourteen activists have gone on trial in central Vietnam on charges of plotting to overthrow the government.
Prosecutors have accused them of working with an exiled group in the US, the Viet Tan, which is labelled by the government as a terrorist organisation.
The defendants, most of whom are Catholics, were arrested in 2011 and are accused of attending courses organised by the Viet Tan.
Verdicts and sentences in the trial are expected on Wednesday.
Correspondents say that while the severest punishment for subversion in Vietnam is the death penalty, it is not expected that any of the accused - who are also alleged to have been involved in in anti-China demonstrations - will be condemned to die.
The government has been accused repeatedly by overseas critics of stepping up repression.
An annual round of dialogue on human rights between Vietnam and the US was cancelled in December because of Washington's concerns about Hanoi's worsening rights record.
The state-controlled media has made little or no mention of the trial, which overseas activists said was one of the largest of its kind. The Communist Party forbids all political debate outside of its auspices.
Charges against those accused of spreading anti-state propaganda and attempting to overthrow the government are often made against dissidents.
An appeals court in December upheld the sentences of two prominent bloggers jailed in September for "anti-state propaganda".
It ruled that the sentences and convictions of writer Nguyen Van Hai and former policewoman Ta Phong Tan should not be overturned.
They received 12 and 10 years in jail respectively after a brief trial.
Related Internet Links
The BBC is not responsible for the content of external sites.