Bali drug trial: Julian Ponder could face lesser sentence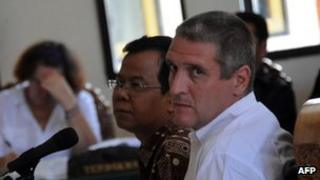 A British man on trial in Bali for drug offences has had one charge dropped.
Julian Ponder, from Brighton, was arrested last May with three other Britons on the Indonesian island.
He was initially charged with selling drugs - an offence which carries a maximum penalty of death by firing squad - but that has now been dropped.
Prosecutors have asked for him to be sentenced to seven years for possession of drugs and be fined $100,000 (£62,000).
Prosecutors suggested the lighter sentence because Mr Ponder has no prior convictions and also because he still has an opportunity to change his ways.
They added that his illegal activities threatened the reputation of Bali.
Mr Ponder is believed to be the partner of Rachel Dougall, with whom he has a daughter. In December Dougall was sentenced to one year in prison for failing to report a crime.
Mr Ponder's trial is one of two continuing.
The other trial involves a Gloucestershire woman accused of being at the centre of the case.
Lindsay Sandiford, 56, is accused of trafficking 10.6lb (4.8kg) of cocaine onto Bali.
Prosecutors have called for her to be imprisoned for 15 years, rather than face execution.
Last year Paul Beales was sentenced to four years in prison for possession of drugs.