US drone attack in Pakistan 'kills eight militants'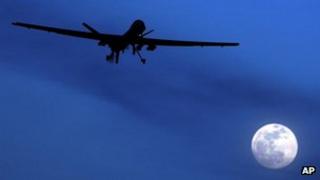 A US drone attack has killed at least eight suspected militants in Pakistan's north-western tribal area of South Waziristan, Pakistani officials say.
Missiles hit a training camp affiliated to top Pakistani Taliban commander Hakimullah Mehsud, they say.
According to Pakistani intelligence officials quoted by AP, two important commanders of the Pakistani Taliban may be among the dead.
Last week, senior commander Mullah Nazir was killed in a similar strike.
He was the leader of one of four major militant factions in Pakistan and was accused of sending fighters to Afghanistan in support of the Taliban.
He was killed along with some of his fighters near South Waziristan's main town of Wana as he was preparing to change vehicles.
Drone attacks are a continuing point of contention between the US and the Pakistani government, which says they kill civilians and violate its sovereignty.