Afghanistan suicide attack 'kills four' in Spin Boldak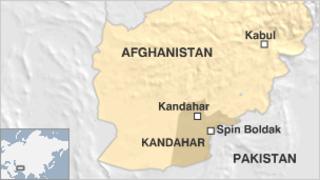 Four people have been killed in a suicide attack in the southern Afghan province of Kandahar, officials say.
At least 15 other people were hurt when two suicide attackers struck in Spin Boldak, the district governor of the area told the BBC.
The attackers shot dead a guard at a meeting of tribal elders before detonating suicide vests.
Spin Boldak, close to the border with Pakistan, has seen numerous militant attacks in the past.
It is seen as a major smuggling route for weapons and an infiltration point for militants passing over the two nations' border.
The roof of the building in Spin Boldak was reported to have collapsed.
It is unclear how many people were inside at the time and there are fears the death toll could rise.