Warning over women's safety amid Nepal rape protests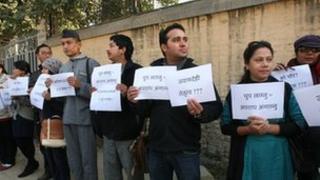 A leading human rights lawyer in Nepal has warned that women may not be safe "even in the custody of the state", following the rape and robbery of a woman by government employees.
"This case is a tipping point," Mandira Sharma told the BBC.
Hundreds of people are demonstrating in the capital Kathmandu for better justice for women following the case.
Protesters said they were inspired by similar rallies in India against the rape and murder of a Delhi student.
The Kathmandu protests are now in their seventh day and are centred on the prime minister's house in the district of Baluwatar.
In the Nepalese case, the 21-year-old woman was returning from working abroad when she was robbed by immigration officials at Kathmandu airport.
She was then handed over to a policeman who, she says, raped her and robbed her again.
The woman says she has become pregnant as a result of the attack.
The Nepalese government have said they will investigate the incident and have given the woman some financial compensation, but she says this is still less than what was taken.
Ms Sharma says this is just one of many incidents of crimes against women which are not being properly investigated.
She says it is particularly hard for Nepalese women to have their cases heard if government employees are involved in the crime.
"Justice depends on good investigation. The police are not professional during investigations. They are subjected to all kinds of pressure from the state, politicians and those in power," she says.