Obituary: Mullah Nazir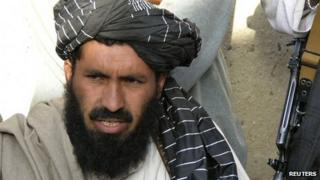 Mullah Nazir, who has reportedly been killed by a US drone strike, made many enemies as a powerful militant commander in Pakistan's volatile South Waziristan region.
His group is just one of several Taliban factions operating in Pakistan's tribal north-west and in recent years there have been bitter divisions among these groups.
Also known as Maulvi Nazir, he survived a number of attempts on his life, the most recent being at the end of November when a suicide bomber attacked his vehicle in Wana, the main town in South Waziristan.
No group said they were responsible for that attack, but soon afterwards Mullah Nazir began ejecting members of the Mehsud tribe - which is linked with the Tehreek-e-Taliban Pakistan group - from his area of control in South Waziristan.
A seasoned fighter, believed to be in his 30s, he was a member of the Wazir tribe and implacably opposed to the ethnic Uzbek fighters who he blamed for killing dozens of tribal elders of the Wazirs.
In March 2007, he launched an offensive against Uzbek militants in the area. The fighting went on for weeks and the confrontation ended in a bloodbath with 13 of his militants as well as 20 Uzbek fighters killed.
He was a soft-spoken man with an unassuming manner, says BBC Urdu's Dilawar Wazir Khan. He leaves behind a widow and a two-year-old son.
Afghan loyalties
His domain was the Ahmedzai-Wazir tribal area which straddles the Afghan border and this proximity to Afghanistan defined his outlook and many of his loyalties.
His links with the country are deep: like all tribesmen living in the border region he was a dual citizen of Afghanistan and Pakistan and has apparently previously owned property in the southern Afghan city of Kandahar, the heartland of the Afghan Taliban.
He is also said to have fought with Taliban fighters in the north of Afghanistan and his group is close to the notorious al-Qaeda-linked Haqqani militant group, which is based in Pakistan's tribal areas but which focuses its activities inside Afghanistan.
Like them, Mullah Nazir favoured attacking US and Nato-led forces in Afghanistan rather than Pakistani soldiers and it is unsurprising that he would be an important target for US drones.
In a May 2011 interview with the Asia Times, Mullah Nazir openly supported Afghan Taliban leader Mullah Mohammad Omar and the then al-Qaeda chief Osama Bin Laden while rejecting claims that he was opposed to al-Qaeda.
"Al-Qaeda and the Taliban are one and the same. At an operational level we might have different strategies, but at the policy level we are one and the same," he said in the interview.
Indeed Mullah Nazir was also believed to have formed a non-aggression pact with the Pakistani government and analysts say his death could be a contentious issue between Washington and Islamabad because the Pakistani military views commanders like him as key to keeping the peace internally.
He did have some differences with the Pakistani forces, especially over the drone strikes, but he never allowed the peace deal with the government to fall through.
Sharia
But Mullah Nazir's focus was not solely on balancing the enmities and loyalties of the various militant networks in the region.
He also ran an Islamic justice system complete with courts and jails in his area of control, which included Wana. But the edicts he issued were not as harsh as under some other Taliban groups elsewhere - a key reason why there was no tribal unrest in the region under his control.
Like other tribal elders and militant leaders in the area, he also banned polio vaccinations.
His opposition to technological innovations has been widely reported and recently, he is said to have banned mobile phones with built-in digital cameras and memory cards.
Announcements were made from loudspeakers in local mosques warning that tribesmen found with such phones would be fined and the device confiscated.
His group said such phones violate Islamic teachings and tribal customs as Indian and Pashto songs were often stored on such phones and that the cameras may encourage the violation of purdah, as women could be photographed.