Drop in North Korean refugees to South Korea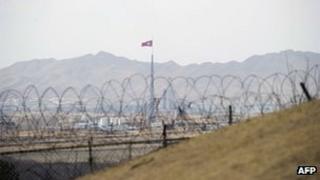 There has been a significant decrease in the number of refugees from North Korea to South Korea in 2012 compared with 2011, data from South Korea shows.
Just over 1,500 North Koreans arrived in the South in 2012 compared to more than 2,700 the previous year, according to the South's Unification Ministry.
Activists say that the North, under Kim Jong-un, is taking stronger measures to prevent people from trying to leave.
The two countries are still technically at war after the 1950-53 conflict.
The conflict ended in a ceasefire and not a peace treaty.
The figure for 2012 is the first time that numbers have fallen below 2,000 since 2006, says Yonhap news agency.
Yonhap quoted South Korean officials as saying that the decrease was due to stricter border controls in the North because of to security concerns after the death of leader Kim Jong-il, Kim Jong-un's father, in 2011.
Activists also say that searches for North Koreans living in hiding in China have been intensified in co-operation with Chinese security forces.
Most North Korean refugees escape across the border with China and then make their way to South Korea via third countries.
There are about 24,613 North Koreans who have arrived in South Korea since 1998, according to the Unification Ministry. About half of them are unemployed or are struggling to make ends meet, it added.