Pakistan: Explosion 'hits Karachi crowd'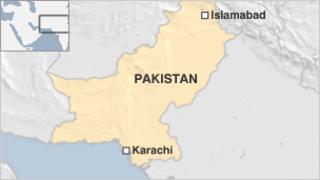 A big explosion has hit a crowded area in the Pakistani city Karachi, killing one person and injuring several others, local media report.
Geo News television said it was a "major blast" near a market.
Police have arrived at the scene and the injured are being taken to hospital.
Karachi has long suffered outbreaks of violence, caused by Taliban militants or by rival political groups fighting turf wars.
The killing of senior cleric Maulana Mohammad Ismail at a prominent Islamic seminary in December sparked angry protests - amid growing sectarian violence in the port city.
Several Shias have been recently killed in drive-by shootings blamed on Sunni militant groups.
And on 10 November, at least seven students from Maulana Ismail's seminary were gunned down by unidentified gunmen at a tea stall nearby.