Pakistan 'frees Afghan Taliban ex-minister Mullah Turabi'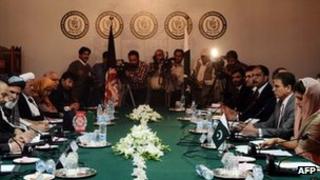 Pakistan has freed the Afghan Taliban's ex-justice minister, Mullah Nooruddin Turabi, and three other Taliban prisoners, officials say.
Afghan officials have been in talks with Pakistani counterparts to try to free certain Taliban prisoners in order to push forward a peace process.
Pakistan released 13 Afghan Taliban members in November.
However, the former Afghan Taliban number two, Mullah Abdul Ghani Baradar, remains in Pakistani custody.
Dozens of other Taliban prisoners are also still detained in Pakistan.
Nato troops are scheduled to withdraw from Afghanistan by the end of 2014 and Kabul hopes the freed Taliban figures can help bring the militants into formal peace talks.
High Peace Council
Pakistani officials confirmed to Reuters and Agence France-Presse news agencies that the latest releases had gone ahead.
Senior Afghan officials also confirmed the releases to the BBC's Bilal Sarwary in Kabul.
The officials named the other men released as:
Mullah Abdul Bari - a former governor
Mullah Allahdad - a former deputy communications minister
Mullah Azam - a former guard of Taliban leader Mullah Omar
Our correspondent says the officials hope that Mullah Turabi's release will encourage field commanders to lay down their weapons and will also provide a greater understanding of the Taliban's senior leadership.
Mullah Turabi, who was reportedly arrested in the Pakistani port city of Karachi seven years ago, was said to be in poor health.
A senior Afghan Taliban official told the BBC that Mullah Turabi had been released two days ago.
At talks in Islamabad in November, officials from Afghanistan's High Peace Council had urged the release of Mullah Turabi, but the prisoners freed then were said to have been mid-level operatives, plus Anwar ul-Haq, a former militant commander in eastern Afghanistan.
As the Afghan Taliban's justice minister, Mullah Turabi was one of the most prominent members of the regime before it was ousted in late 2001.
In Kabul he was renowned for sitting outside the ministry building, keeping watch on passing crowds to see that dress codes were adhered to.
Mullah Turabi is from southern Afghanistan's Uruzgan province, as is Mullah Omar. The two men are said to be related by a family marriage.
Afghan President Hamid Karzai established his 70-member High Peace Council more than two years ago to open negotiations with insurgents.
However, the council has struggled to reduce mistrust between the militants and the government in Kabul.
Although Afghanistan has in the past accused Pakistan of backing insurgents - allegations Pakistan strenuously denies - Afghan officials have recently suggested that they do believe Islamabad is genuine in its support of a peace process.
Pakistan's powerful army chief, Gen Ashfaq Kayani, is said to back the peace dialogue amid concerns for regional stability in the wake of the departure of the Nato-led forces.
However, border tensions remain and on Monday Afghan officials said a couple in eastern Kunar province had been killed by four rockets fired from the Pakistani side.