Burma stages first public new year countdown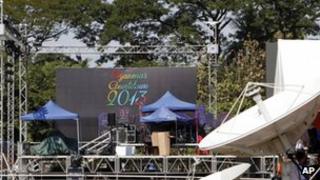 Burma has ushered in the new year for the first time with a public countdown, in the latest sign of easing political controls on daily life.
Tens of thousands were expected to attend the celebration near the golden Shwedagon pagoda in Rangoon.
The countdown, featuring a fireworks display and performances by Burmese entertainers, was due to be broadcast live on television.
Public gatherings in Burma were banned under military rule.
Countdowns from neighbouring countries were also to be broadcast on a large digital screen during the celebration at the Myoma Parade grounds.
Starting at 16:00 local time (09:30 GMT), it is the second major public entertainment event following the concert of American artist Jason Mraz on 16 December, said the Irrawaddy Magazine.
"Most other countries usually hold public new year countdown parties. But we Burmese have no idea about the countdown, as we have never celebrated it before as a public gathering," the magazine quoted Swe Hein, one of the event organisers, as saying.
Untapped market
As well as a being another sign of Burma's normalisation, the public new year celebration is also a reminder of the country's tantalising investor potential, the BBC's South East Asia correspondent Jonathan Head says.
The event has been organised by a prominent Thai company with ambitions to cash in on the untapped market for promotional events in Burma, he says.
Although it has cost the company more than $1m to stage, much of that money is expected to be recouped from advertising by other firms also keen to establish their names in Asia's most promising economic growth story, our correspondent notes.
Burma has seen a series of dramatic reforms since the nominally civilian government under President Thein Sein came to power last year.
Many political prisoners have been freed, censorship has been relaxed and some economic reforms enacted.
Opposition leader Aung San Suu Kyi's National League for Democracy (NLD) party, which had boycotted previous elections, has since rejoined the political process. It now has a small presence in parliament after a landslide win in by-elections deemed generally free and fair in April.
Just last week, the government also announced that privately-owned newspapers are to be allowed in Burma from April 2013 for the first time in almost 50 years.
But rights groups have also urged caution, pointing to violent unrest through 2012 in western Rakhine state, which has displaced hundreds of thousands of people.