Hundreds of Rohingya refugees reach Langkawi, Malaysia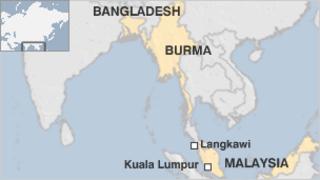 A group of about 450 Rohingya Muslims from Burma have arrived on Malaysia's Langkawi island after a two-week boat journey, officials say.
It is believed to be one of the largest groups of Rohingya migrants to have arrived in Malaysia this year.
One man is reported to have drowned trying to swim ashore. The others have been taken to a detention centre.
Many Rohingyas have fled Burma's Rakhine state as deadly clashes flared earlier this year.
But tens of thousands have fled persecution over the last few decades. Many go to Bangladesh and others make the perilous boat journey from there to Malaysia.
Dozens are feared to have perished in two separate incidents earlier this year when boats carrying hundreds of Rohingyas capsized in the Bay of Bengal and off the Bangladeshi coast.
It is unclear if this group has come directly from Burma or via Bangladesh.
The United Nations refugee agency says there are about 25,000 Rohingyas registered in Malaysia.
The UN describes Rohingyas as a persecuted religious and linguistic minority from western Burma.
The Burmese government, on the other hand, considers them as illegal immigrants from Bangladesh and they remain stateless migrants in Bangladesh and Malaysia.