Japan PM Abe praises Fukushima nuclear work during visit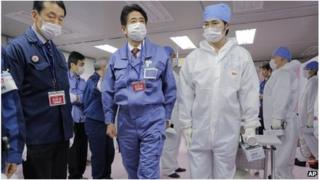 Japan's newly elected Prime Minister Shinzo Abe has visited the Fukushima nuclear plant, which was damaged by an earthquake and tsunami last year.
Mr Abe said the process of dismantling the plant, which was decommissioned after the disaster, was an "unprecedented challenge".
The plant is now stable, but removing all the radiation could take decades.
On Thursday, Japan said it would review the previous administration's plans to phase out the use of nuclear power.
All 50 of Japan's nuclear reactors were shut down after the disaster in March 2011, and the stoppage of nuclear power use by 2040 was ordered.
Two reactors have recently been restarted, and Trade and Industry Minister Toshimitsu Motegi said others could follow if it was considered safe by the nuclear authority.
'Best of Japan'
Wearing an anti-radiation suit and face mask, Mr Abe told some of the thousands of workers at the Fukushima plant that their courage "brings hope to Japan".
"Yet, we still face a great challenge - a unprecedented challenge in human history to working towards decommissioning the plant in such scale," he said.
"The best of Japanese science and technology is gathered here, so with your tough spirit, we will succeed in the challenge of decommissioning."
He said a successful decommissioning would "lead to the reconstruction of Fukushima and Japan".
Mr Abe, who was briefly prime minister between 2006 and 2007, was returned to the post earlier this month, when his Liberal Democratic Party (LDP) won a landslide victory in national elections.
He has spoken of wanting to build a "responsible energy policy" which would include a role for nuclear energy.
Before the quake and tsunami, Japan had relied on nuclear power for almost one-third of its energy supplies.
The shut down has resulted in higher energy costs and a rise in Japan's imports of energy sources such as oil and natural gas, widening its trade deficit.
Many big businesses want Japan to return to using nuclear power, but public support for it has dwindled and there were large protests when reactors were restarted.
To see the enhanced content on this page, you need to have JavaScript enabled and
Adobe Flash
installed.