Pakistan press marks arrival of 'new Bhutto' into politics
By Vikas Pandey
BBC Monitoring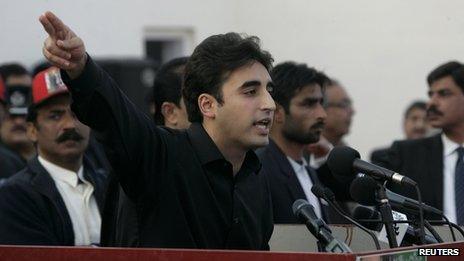 "He came, he saw and he conquered" - this is how the Pakistani Daily Times summed up Bilawal Bhutto Zardari's formal arrival in politics.
Pakistan woke up to headlines of the new "sonrise" as publications prominently acknowledged the start of another Bhutto era.
Mr Bhutto Zardari and his Pakistan People's Party decided to launch his political career on the death anniversary of his mother and former Prime Minister Benazir Bhutto.
The launch was staged near the village of Garhi Khuda Baksh in Sindh Province, and this connection did no go unnoticed in the country's media.
The rugged village has seen the end of many political journeys including that of former Prime Minister Zulfiqar Ali Bhutto, his son Murtaza and daughter Benazir. The place is known as the final resting place of the three politicians who were all killed during the course of their careers.
And this connection seems to be working for the newest entrant from the family in politics.
He may have divided opinions on his ability to lead the party, but the media, political pundits and social media users all see him as the son of a famous mother.
Politician Farahnaz Ispahani's tweeted that Mr Bhutto Zardari had been "brought up by the best mother".
Writing in the Express Tribune, prominent journalist Mazhar Abbas explained why Mr Bhutto Zardari's entry into politics was a case of destiny.
"He watched as his mother was attacked on her homecoming parade on October 18, 2007. He saw her soldier on. And because of December 27, for him the political became the personal," Abbas wrote in his column.
Journalist Farahnaz Zahidi Moazzam acknowledges that while "her political leanings may have changed", she "still loves" Benazir.
"Benazir Bhutto is still important to me. In my heart, I have a maternal sense of protection when her children are criticised," she wrote in her blog.
The journey may only have just begun for Oxford-educated Mr Bhutto Zardari, but such is the pressure of his family name that he will find it difficult to escape comparisons with his mother and his father, current Pakistani President Asif Ali Zardari.
However, writing in the Express Tribune Mazhar Abbas argues that Mr Bhutto Zardari should be given a fair chance because his mother's political journey also began at a very young age.
She accompanied her father on many foreign trips, including the famous Shimla conference between India and Pakistan, to learn the ropes of politics.
"Benazir's political maturity was, in part, forged by her father's meteoric rise," the journalist wrote.
"It was hammered home by the gallows. It was hewn by the hundreds and thousands of arrests, imprisonment and hangings. It was chiselled by her experience leading the party with her mother from the front.
"By the time Bilawal was born, Benazir had already won an election," he explained.
"But it would be unfair to expect this much from him."
The Daily Times said the country and Mr Bhutto Zardari's party is facing many challenges, particularly the rise of extremism in the country.
The paper's editorial says that Benazir fought extremism and finally gave up her life for the cause - and it would be a good start for Mr Bhutto Zardari if he pushes for a fair probe into the death of his mother.
"The best tribute to Mohtarma Benazir Bhutto on her fifth death anniversary would be the full and thorough investigation of her assassination. That is what her political successor, Bilawal, must demand of the government of his party," it said.
The News praised Mr Bhutto Zardari for speaking in fluent Urdu considering that he has spent most of his life abroad, but the paper did not seem too impressed with the content of his speech and expects him to do more to earn his respect as a politician.
"The much touted expectation that Bilawal will give a new political vision proved futile," the paper's editorial said.
However it acknowledged the young politician's "under-training" tag, which it said it will give him "a protective cushion during the years ahead when he is likely to take an increasingly central role in party affairs".
The young Mr Bhutto Zardari has the family name and a protective father who also happens to be the president of the country. But can he come out of the shadows of his famous parents to attract Pakistan's younger generation? Twitter users seem to be divided on this question.
TV anchor Mubasher Lucman felt that Maryam Nawaz Sharif, daughter of former Prime Minister Nawaz Sharif and Imran Khan have already "inspired the youth", pointing out that Mr Bhutto Zardari still has a long way to go.
Another TV presenter Shahid Masood also questioned Mr Bhutto Zardari's ability to become a youth icon in his reply to a tweet.
But there were any others who supported the young politician.
Journalist Nasim Zehra tweeted that Mr Bhutto Zardari was "the inheritor of the Bhutto mantle" and that he "managed it quite well".
BBC Monitoring reports and analyses news from TV, radio, web and print media around the world. For more reports from BBC Monitoring, click here. You can follow BBC Monitoring on Twitter and Facebook.
Related Internet Links
The BBC is not responsible for the content of external sites.