Burma gives go-ahead for private newspapers in 2013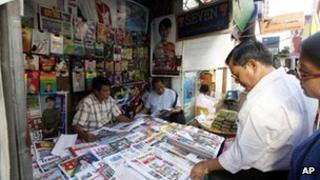 Privately owned newspapers are to be allowed in Burma from April 2013 for the first time in almost 50 years, the government has announced.
The move follows the abolition of direct government censorship of the media in April 2012.
Correspondents say it was expected as part of the latest reforms in Burma.
The information ministry said on its website that any Burmese national wishing to set up a newspaper could submit an application from February.
It said newspapers would be permitted in any language from 1 April 2013.
In August, the government informed journalists they would no longer have to submit their work to state censors before publication as they had been doing for about half a century.
Until two years ago, reporters in Burma faced some of the harshest restrictions in the world.
They were frequently subjected to surveillance, phone taps and other forms of censorship.
The authorities routinely closed down newspapers that broke the rules and reporters were often tortured or imprisoned.
'Assassins on air'
Private dailies in Burmese, English, Indian and Chinese languages used to be commonplace in the former British colony.
All of those publications were forced to close when military ruler Ne Win nationalised private businesses in 1964.
Burma has numerous state-run dailies and weeklies, some of which cover news and others that concentrate on sports and other topics.
But for the first time there will be competition for state-run daily The New Light of Myanmar, BBC South East Asia correspondent Jonathan Head reports.
During the old days of military rule, our correspondent says, the paper used to rail against the government's enemies in colourful English, once memorably calling the BBC "assassins on air".