Cambodia court ruling on union leader's murder condemned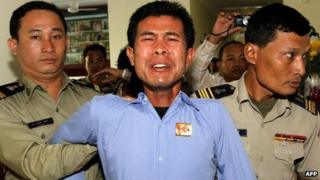 Rights groups in Cambodia have condemned an appeals court ruling that returns to jail two men convicted of murdering a union leader in 2004.
Born Samnang and Sok Sam Oeun were sentenced to 20 years in prison in 2004 but have been on bail since 2008.
On Thursday, a lower court's 20-year jail term for both men was upheld.
Human rights activists said they were "shocked and disappointed at the lack of independence of the court" and that the men had been made "scapegoats".
The Supreme Court had released Born Samnang and Sok Sam Oeun on bail in 2008 to allow further investigations into the murder of Free Trade Union (FTU) leader, Chea Vichea.
But an appeal court on Thursday ruled that there was enough proof of their guilt and ordered their immediate return to jail.
Activists say that the only witness to the crime has said the pair did not kill Chea Vichea - as has the officer leading the police investigation.
They say scapegoats are often found in Cambodia to ensure those instigating numerous attacks against trade unionists go unpunished.
'Full of hope'
Chea Vichea was a vocal critic of Prime Minister Hun Sen's government and was gunned down in broad daylight in January 2004 at a newsstand in Phnom Penh - a murder activists say was an attempt to silence his union that mostly represents garment workers.
"Please help me, this is very unjust," a tearful Born Samnang shouted as he was taken away by police. He said that he would seek help from King Norodom Sihamoni to clear his name.
Sok Sam Oeun's wife, Neang Heng, said that her husband remained "full of hope" that he would eventually be acquitted.
The pair's lawyers are appealing against the ruling.
Cambodian Centre for Human Rights President Ou Virak said: "I am very shocked and disappointed at the lack of independence of the court and at the inability of the court to provide justice in the case."
Campaigners say that the country's legal system is controlled by powerful and wealthy interests, effectively leaving the country without the rule of law.
Police said at the time of the killing that the pair were promised $5,000 (£3,090) to carry it out.