Thailand 'yellow-shirt' leaders charged over 2008 protest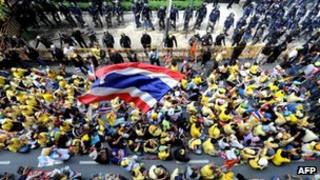 Leaders of Thailand's "yellow-shirt" protest group have been charged with offences allegedly committed during a 2008 anti-government rally.
They could face up to 12 years in jail if convicted of invading a government building and blocking parliament.
The "yellow shirts" were fiercely opposed to the administration formed by allies of ex-PM Thaksin Shinawatra.
There have been sporadic clashes with the pro-Thaksin "red-shirt" protesters for several years.
Bangkok eviction
People's Alliance for Democracy leaders Sondhi Limthongkul, Chamlong Srimuang, Pibhop Dhongchai, Somkiat Pongpaiboon, Prapan Khoonmee and Maleerat Kaewka, among others, are accused of trespassing in the government building and blocking access to parliament in August 2008.
The former crime carries a sentence of up to five years in prison; with seven more for the latter.
A further charge of occupying Bangkok airport for two weeks is still to be formally presented.
Mr Thaksin was toppled by a military coup in September 2006 following the annulment of a general election by the courts, and months of street demonstrations against him by the "yellow-shirts" - a loose grouping of royalists, ultra-nationalists and the urban middle class.
The pro-yellow shirt Democrat Party formed a government in 2008, sparking mass protests by the red shirts.
Another court ruling disqualified two pro-Thaksin governments in 2008, which triggered red-shirt protests that culminated in violence in 2010.
Dozens died as the military acted to evict red-shirt protesters in Bangkok in April of that year.
Recently, an independent inquiry said that both Thai security forces and red-shirt protesters were to blame for the violence.
This month, former PM Abhisit Vejjajiva was charged with murder over the death of a taxi driver shot by soldiers during the violence.
Yingluck Shinawatra, the current prime minister who was elected last year, is Mr Thaksin's sister.