Japan says it will review plans to abandon nuclear power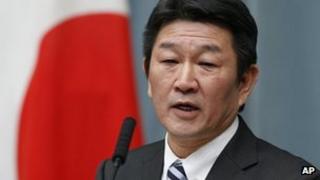 The new government in Japan has announced it will review the planned nuclear power phase-out proposed by the previous administration.
Trade and Industry Minister Toshimitsu Motegi said that reactors would be restarted if considered safe by the nuclear authority.
Prime Minister Shinzo Abe has promised bold measures to revive the economy.
The stoppage of nuclear power use by 2040 was ordered following last year's Fukushima disaster.
However, the failure of the previous Democratic Party to put an end to years of economic stagnation led to an overwhelming poll victory for their rivals earlier this month.
Backed by a two-thirds majority in Parliament, the newly-elected Liberal Democratic-led cabinet took office on Wednesday endorsing Mr Abe's economic reform plans.
Veteran trade minister Toshimitsu Motegi, who is also in charge of energy policy, made it clear that the government would not allow its plans to be hampered by higher energy costs.
"We need to reconsider the previous administration's policy that aimed to make zero nuclear power operation possible during the 2030s," he told a news conference.
Mr Abe, who was also prime minister in 2006-07, focused his election campaign focused on more public spending and a looser monetary policy, in what some analysts called "Abenomics".
"A strong economy is the source of energy for Japan. Without regaining a strong economy, there is no future for Japan," Mr Abe said after taking office.
The prime minister had also said that he would allow nuclear energy a bigger role, despite last year's disaster.
Japan, which relied on nuclear power for almost one-third of its energy supplies before the incident, shut all its 50 nuclear reactors after the leaks, but recently restarted two of them.
The move has resulted in higher energy costs, and many big businesses want Japan to return to using nuclear power.
The shutdown of the nuclear reactors has also seen a rise in Japan's imports of energy sources such as oil and natural gas, widening its trade deficit.
Public support for nuclear energy has dwindled and there were large protests when reactors were restarted.
To see the enhanced content on this page, you need to have JavaScript enabled and
Adobe Flash
installed.