Chinese press urges "hawk" Abe to soften stand on foreign policy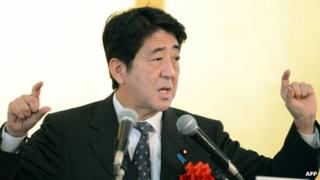 Chinese papers have given a cautious welcome to Japan's new Prime Minister Shinzo Abe and urged him to do more to smooth relations between the two countries.
Some warned that Mr Abe's "soft landing" would not achieve a breakthrough in the often troubled ties between the two countries and that he needed to change his policy on the disputed islands known as Diaoyu in China and Senkaku in Japan.
However, a section of the press preferred to give Mr Abe a cautious chance, saying he now has an opportunity to improve relations.
There were also commentators who urged Beijing to take a more pragmatic view towards Tokyo, keeping in mind the economic benefits for both countries.
"Start negotiations"
A commentary in Hong Kong-based daily Zhongguo Pinglun Wang said the two nations must try and solve their argument over the disputed islands.
"Abe's 'soft landing' will not result in China and Japan attaining understanding and breakthroughs on the Diaoyu Islands and there will still be constant discord between the two sides on the issue," it said.
"He should soften his stance further on the basis of the previous Prime Minister Yoshihiko Noda's China policy.
''For example, he should recognise that the Diaoyu Islands are a territory that is disputed by China and Japan and start negotiations on the sovereignty of the islands as soon as possible. This is the only way to improve Sino-Japanese relations," the paper said.
Another Hong Kong-based daily, Wen Wei Po, urged Mr Abe to learn lessons from the past.
"It is worth noting that Abe has recruited a number of hawks into the new cabinet, including Itsunori Onodera, whose stance is hardline on the Diaoyu Islands issue, as defence minister," it said.
''If Abe is to re-establish mutual trust with China, he should learn from the lessons of [previous PM Yoshihiko] Noda's government which was undermining Sino-Japanese relations and [instead] use concrete actions to improve Sino-Japanese relations. This is the only way to avoid repeating the mistakes of Noda's short-lived rule."
"Second chance"
China Daily felt that Abe's new stint is his second chance to make amends to Japan's "flawed" foreign policy and he must make good use of it.
"If he follows the diplomatic policy he outlined during his campaign he will only aggravate the tension... Japan must be reminded that its intention to use its alliance with the US as pressure to deter China... Will not work.
''During his first term as prime minister, Abe worked on improving Japan's relations with China by seeking to establish a partnership of mutual benefit between the two countries.
"Now he has been given a second chance in the role and we hope that he will keep a broad perspective on bilateral relations,'' it said.
Beijing's Xinhua News Agency said: "Abe has to draw lessons from the Democratic Party of Japan and fulfil his promises... As for foreign policies, the new government is expected to become more pragmatic as tensions between Japan and its neighbours have scratched Japan's interests...
''If the new government could achieve significant progress both in domestic and diplomatic fronts, the Liberal Democratic Party would secure a solid base for its rule and may smash the circle of frequently-changed governments."
A report in Beijing daily Renmin Ribao said: "This well-known right-wing 'hawk', Abe, has softened significantly.
"Before forming his cabinet, Abe frequently sent soft signals to neighbouring countries... There are two major difficulties laying in front of him: Economic malaise and tense relations with surrounding countries".
"Cold politics to cold economics"
An editorial in the Beijing-based Global Times said that China should not expect relations to improve overnight and must keep a realistic view in order to preserve good economic ties between the two countries.
"Officials from both China and Japan will continue to stress mutually beneficial relations. However, we cannot realistically expect this. At this stage, we can only adjust our policies based on reality," it said.
''The 'cold politics but hot economics' relationship between the two countries is transforming into 'cold politics and cold economics'... There's a possibility that Japan may decide to tie its future to the US and become an anti-China country even more radical than the US."
Beijing-based Huanqiu Shibao's headline urged the Chinese authorities "not to expect Abe to be friendly" and "not to fear his toughness".
The paper's editorial said: "Japanese cabinets come and go. China should build a stable attitude towards Japan... It is no longer possible for China and Japan to restore friendly relations prior to the [Junichiro] Koizumi (Japanese prime minister from 2001-2006) era and it is almost impossible even to restore relations before the Diaoyu Islands conflict in the short term.
''China needs to calm down and accept a state of long-term coldness and even tension and volatility. This should be a starting point for designing a specific diplomacy towards Japan," Huanqiu Shibao said.
BBC Monitoringreports and analyses news from TV, radio, web and print media around the world. For more reports from BBC Monitoring, click here. You can follow BBC Monitoring on Twitter and Facebook.