Deadly attack at US base in Khost, eastern Afghanistan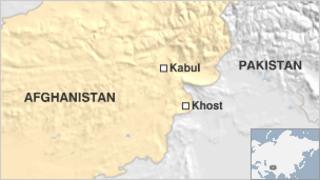 A suicide car bomber has killed at least three Afghan civilians near a US military base in the south-eastern Afghan city of Khost, police say.
They say the attacker drove a minibus packed with explosives towards Camp Chapman, but the vehicle exploded near the entrance as guards opened fire.
There were no coalition casualties, but six Afghans including three guards and three passers-by were injured.
In a statement, the Taliban said they carried out the attack.
Khost, which borders the volatile Pakistani region of Waziristan, has recently seen a dramatic rise in violence.
In October, a suicide bomber killed at least 20 people, three of them Nato soldiers, in the city.
In June, a suicide bomber killed 21 people - including three US troops and a local interpreter.
The Taliban-affiliated Haqqani network regularly mounts large-scale attacks and suicide bombings in the area.