Indonesian official who divorced teenager faces sack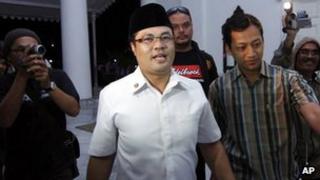 Legislators have voted to dismiss an Indonesian official who divorced a teenager after four days of marriage.
Aceng Fikri, elected head of Garut in West Java province, publicly apologised amid angry protests earlier this month.
But on Friday legislative council members voted overwhelmingly to remove him from office. He can still appeal to the Supreme Court.
Mr Fikri, 40, is married with three children and took the 17-year-old as his second wife in a Muslim ceremony.
He divorced the teenager, Fani Oktora, by text message after he said he discovered she was not a virgin. She accused him of domestic violence.
Forty-five out of 49 local council members who attended Friday's session agreed to report Mr Fikri's actions to the Supreme Court, according to the Jakarta Globe.
A verdict is due within a month, the paper said.
The case has caused a national outcry and President Susilo Bambang Yudhoyono ordered an investigation.
Mr Fikri has been dropped by the Golkar party and has faced repeated calls to resign.