Malala Yousafzai college shuts after protests over name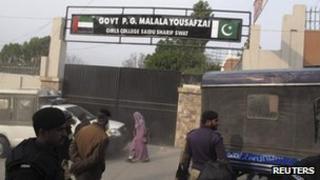 The authorities in Pakistan have shut Malala college in Mingora in the Swat valley after a row over its new name.
Correspondents say the move is aimed at defusing demonstrations by students.
The move followed fresh protests over a decision to rename the school after Malala Yousafzai, the schoolgirl activist shot by the Taliban.
Girls at the college are demanding it revert to its previous name, Saidu Sharif college. They say they fear for their security.
Over the weekend Pakistan's interior minister Rehman Malik had told the BBC the school would retain the name of Malala Yousafzai, widely known as a campaigner for girls' education.
But on Monday evening the regional government announced the college would shut indefinitely after more protests during the day, this time by boys from another college in Mingora, the main town in Swat.
Last week, girls at the school tore down posters of Malala and demanded her name be removed from the school, saying they feared Taliban attacks.
She is currently receiving hospital treatment in the United Kingdom. Two other girls were also injured in the October attack but survived.