Indonesia Sukhoi plane crash 'human error'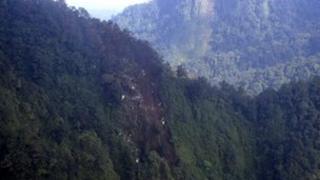 Investigators in Indonesia have blamed pilot error for a plane crash in May that left all 45 people on board dead.
The Russian Sukhoi Superjet plane crashed into mountains in Java during a demonstration flight.
Indonesia's National Transport Safety Committee said that the plane's terrain awareness and warning system (TAWS) issued multiple warnings that there was land ahead.
No action was taken and the plane flew into a dormant volcano.
"The crash could have been avoided if a recovery action was carried out within 24 seconds from the first warning," committee chief Tatang Kurniadi told reporters.
But the pilot turned off the TAWS because he thought there was a database problem, he said.
He said there was also a "diversion of attention" in the cockpit, with the pilot talking to a potential customer.
Eight Russian pilots and technicians, Indonesian airline representatives and journalists were among those on board the plane.