South Korea presidential rivals in final election push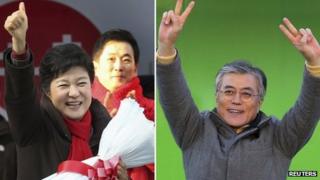 Final campaigning is under way in South Korea ahead of Wednesday's tightly-contested presidential election.
Park Geun-hye of the ruling Saenuri party faces Moon Jae-in of the liberal Democratic United Party in the polls.
A win by Ms Park would give South Korea its first female president.
But the daughter of former military strongman Park Chung-hee has faced criticism over his legacy, as has Mr Moon over his close ties to late President Roh Moo-hyun.
The current leader, President Lee Myung-bak, is stepping down, as the law requires he must after serving one five-year term.
Past history
Both Ms Park and Mr Moon were set to spend their last day on the campaign trail with stops in multiple cities.
On Sunday the two held the third of three televised debates, with the focus on social issues. Both pledged to introduced new policies aimed at supporting mothers and boosting South Korea's low birthrate.
Economic issues have dominated the election build-up, including tough competition to find employment for young people.
Both candidates have promised to boost social welfare spending, amid rising income inequality and concern over the dominance of big business in the form of South Korea's family-run giant conglomerates, known as chaebol.
North Korea does not appear to playing a major role, despite its recent rocket launch. Both candidates have promised more engagement with Pyongyang, in contrast to the tough stance of Mr Lee, who linked the provision of aid to progress on denuclearisation.
Ms Park, 60, had been seen as the front-runner until a third main candidate, independent Ahn Cheol-soo, dropped out of the race last month, throwing his support behind Mr Moon.
His move came amid concern that splitting the opposition vote between two candidates would hand the conservative ruling party a win.
Another left-wing candidate, Lee Jung-hee, also stood aside earlier this month, again backing Mr Moon.
Both the remaining candidates have had to face questions about past associations.
Ms Park, the daughter of the man who led South Korea from 1961 to 1979, apologised in September for human rights violations committed during her father's rule.
Both her parents were assassinated - her mother in 1974 by a pro-North Korea gunman and her father in 1979 by his own spy chief. Her father remains a deeply divisive figure, credited with jump-starting the nation's economy but also with ruthless suppression of dissent.
She faces an additional challenge aiming for the top in a deeply conservative society, where women are traditionally poorly represented both in parliament and in senior executive positions.
In 2012, the World Economic Forum ranked South Korea 108th out of 135 nations in its Global Gender Gap Index.
Mr Moon, meanwhile, was jailed in the 1970s for protesting against Park Chung-hee's administration.
A human rights lawyer, he served as chief of staff to Mr Lee's predecessor, Roh Moo-hyun, the liberal president who later killed himself amid a corruption probe.
South Korea uses a first-past-the-post system, and so the candidate with the most votes will become president.