Asia papers split over return of Japan's Abe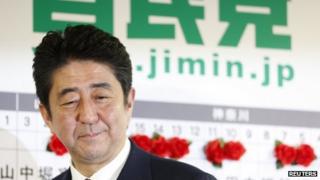 A return to power in Japan for the Liberal Democratic Party (LDP) is greeted with little enthusiasm by the region's press.
In Japan, it was suggested by one daily that the results reflected voters' rejection of the previous government rather than support for the LDP.
And in South Korea, there is concern that the new leadership will upset the balance of friendly relations in the region.
However, the Chinese press believes that although LDP leader Shinzo Abe may utter hawk-like noises, his election win may actually improve relations.
Japan
Editorial in Japan's English-language daily The Yomiuri Shimbun: It was a landslide victory without zeal... Voters handed down a harsh verdict on the government of the Democratic Party of Japan (DPJ).
Editorial in Japan's English-language daily Japan Times: It is very likely that voters felt that, amid the current economic and political doldrums, it would be safer to give governing power back to the party that has had long experience in running the nation. But given the LDP's policy proposals, there is no guarantee that people's lives will improve under an LDP administration or that the international environment surrounding Japan will become stable.
Editorial in Japan's English-language Mainichi Daily News: The LDP emphasised a return to what was, rather than change. And while voters sensed that the party - which kept its distance from the political realignment of other parties - had preserved its factions and other old-fashioned characteristics, they may have decided that the party was at least better than the others.
China, Hong Kong
Jiang Yaping in Hong Kong daily Ming Pao: As for Abe, one has to see his two-sided nature. On the one hand, he is a hard-line right-wing figure in the Japanese political arena, who has repeatedly denied Japan's war crimes and who visited the Yasukuni Shrine in October this year. But on the other hand, his accession to power has also provided a possibility for Sino-Japanese relations to break the deadlock.
Jiang Feng in Beijing's Communist Party daily Renmin Ribao: China has some worries about Japan's LDP regime that is about to come into being. China has no choice but to be vigilant against "tough" words made by some hawkish politicians within the Liberal Democratic Party during the election. Of course, in Western political science, "election language" is often some distance from "'governing actions"... We have reason to believe that Shinzo Abe will make efforts to repair Sino-Japanese relations after coming to power again, even if it is just for Japan's "national interests".
Lian Degui in Shanghai Communist Party daily Jiefang Ribao (Liberation Daily): The overall situation is one of peace, friendship, co-operation and win-win, rather than confrontation, threats, provocation or losses for all... Shinzo Abe is an LDP "hawk". But in Japan, things are done easily when the "hawks" are in power. It is hoped that he can make a difference.
Editorial in Beijing's state-run Huanqiu Shibao (Global Times): Abe is a typical hawkish politician in Japan, but when he was last elected prime minister in 2006, he chose China as his first overseas visit to create a famous "ice-breaking journey". It is worth seeing how he handles Sino-Japanese relations this time.
South Korea
Editorial in daily Hankyoreh: The decision of the Japanese public should be respected, but as residents of a neighbouring country, we cannot help worrying about the effects this hard right turn will have on peace in Northeast Asia and relations between Tokyo and Seoul... Whoever is elected president in South Korea on 19 December will need to prepare for this right-leaning Tokyo with a clear understanding of the historical issues at play.
Editorial in English-language daily Korea Times: Dark clouds are gathering in north-east Asia as Japan's conservative LDP returned to power... While it's true Japanese voters' choice must be respected, Korea, as Japan's neighbouring country, has to be concerned about the possible negative influence Abe's re-emergence will have on peace in the region and, in particular, the relationship between Seoul and Tokyo.
BBC Monitoring reports and analyses news from TV, radio, web and print media around the world. For more reports from BBC Monitoring, click here. You can follow BBC Monitoring on Twitter and Facebook.