Peshawar airport rocket fire kills four in Pakistan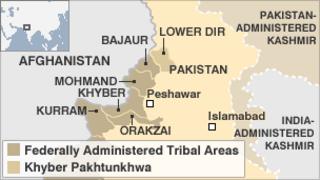 Taliban militants have launched a rocket attack on Peshawar airport in north-west Pakistan, killing at least four civilians, officials say.
More than 30 others were injured as the rockets landed in residential areas close to the airport.
A spokesman for the Taliban told the BBC they had carried out the attack.
Women and children are thought to be among the casualties. Peshawar lies on the edge of Pakistan's tribal region, the major sanctuary for militants.
It is believed security forces fired back after the militants launched Saturday's rocket attack.
Peshawar has seen frequent bomb and gun attacks by militant groups in recent years, although assaults on the airport are rare.
Security there is usually extremely tight.
The airport is used as a base by the Pakistan Air Force as well as for commercial flights. It is not clear if the militants entered the airport.