Q&A: Japan election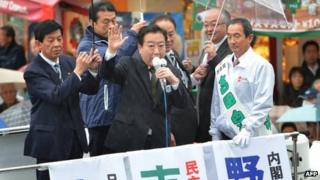 Japan's voters go to the polls on Sunday in elections that look set to deliver a painful setback to the governing Democratic Party of Japan, only three years after it ended decades of nearly unbroken rule by the Liberal Democratic Party.
The election comes with Japan's sluggish economy back in recession and a territorial dispute with China has also raised tensions. As well as an LDP success, observers predict an overall rightward shift, with a new right-wing party attracting attention.
What is at stake?
The election determines the composition of the lower house of Japan's parliament (Diet), the 480-member House of Representatives, which determines who forms the government. The upper house, the 242-member House of Councillors, is not up for election.
Members of the House of Representatives are elected for four year-terms using a mixed electoral system, with 300 members elected by simple majorities in single-member constituencies and the remaining 180 from national party lists in proportion to their party's share of the vote.
What are the main parties?
In the incumbent corner is the Democratic Party of Japan (DPJ) of Prime Minister Yoshihiko Noda. Formed from various small social democratic and liberal groups in 1998, the DPJ unites a range of political views, from centre-left to centrist.
It swept to power for the first time in 2009 amid voter fatigue with more than 50 years of nearly uninterrupted government by the LDP, winning a strong 308-seat majority. It promised to break up the traditionally close ties between Japan's bureaucrats and politicians, and hand more power to citizens.
The DPJ has seen a steady decline in its popularity, experiencing two changes of prime minister, party infighting and corruption scandals, and acquiring a reputation with many voters for ineffectiveness.
The main opposition party - the LDP - has rebounded since losing power, benefiting from disillusionment with the DPJ.
Formed out of the centre-right Liberal and Democratic parties in 1955, the party has since then held a near-continuous stranglehold on Japanese politics, only briefly losing power in 1993-4.
The big newcomer on the political scene is the right-leaning Japan Restoration Party, led by the nationalist former governor of Tokyo, Shintaro Ishihara. Mr Ishihara resigned in November to lead the new party, the result of a merger between his Sunrise Party and a regional party led by right-wing Osaka Mayor Toru Hashimoto.
After an initial burst of popularity, its star could be waning after Mr Ishihara cast doubt on its commitment to abolishing nuclear power, a highly emotive issue with many Japanese voters since the 2011 Fukushima nuclear disaster.
Another new party is the Tomorrow Party, led by Shiga Governor Yukiko Kada. Former DPJ heavy-weight Ichiro Ozawa has swung his support behind this party, which has an anti-nuclear platform.
More likely to play a role after the election is New Komeito, a lay Buddhist party which promotes pacifist policies and welfare spending, and has traditionally worked closely with the LDP.
Who are the main party leaders?
Yoshihiko Noda became DPJ leader and prime minister in August 2011 after his predecessor, Naoto Kan, resigned in response to criticism of his handling of the Fukushima disaster.
Mr Noda - who once compared himself to a Dojo Loach (a bottom-feeding freshwater fish native to East Asia) - has struggled to restore the DPJ's fortunes. Never sky-high, his popularity took a potentially fatal hit when he pushed through a move to raise Japan's sales tax from 5% to 10%.
The election is LDP leader Shinzo Abe's chance to become prime minister for a second time after serving in the office and as LDP leader between September 2006 and September 2007, when he resigned suddenly in response to persistently low opinion poll ratings. He returned as party leader in September 2012.
Mr Abe is known as a fiscal conservative and foreign-policy hawk who has called for national pride and a more assertive Japan.
What are the main issues?
One key issue has been how to jump-start Japan's struggling economy, which has just slipped back into recession. All parties want to end what is seen as the vicious circle of falling prices, weak growth and resulting weak consumer demand, but the LDP goes further than most in pledging to give the central bank a fixed inflation target of 2% in order to achieve this.
Nuclear policy became a hot-button topic with many Japanese after last year's Fukushima nuclear disaster. The DPJ has promised to end all nuclear power generation by the end of the 2030s. The LDP, meanwhile, only says it will decide on a new energy mix for Japan within 10 years, leaving open whether this will include nuclear power.
Foreign policy has also loomed large. The election comes as the longstanding row with China over a group of small islands near Taiwan continues to simmer. Both the DPJ and LDP promise to step up measures to protect Japan's claim, the LDP says it will station Japanese officials on the islets - a move likely to incense Beijing.
BBC Monitoring reports and analyses news from TV, radio, web and print media around the world. For more reports from BBC Monitoring, click here. You can follow BBC Monitoring on Twitter and Facebook.