Burma protest leader bailed before 'monasteries trial'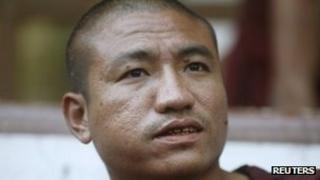 One of Burma's best-known former monks who has been released on bail facing trespass charges says the authorities fear he will lead new protests.
Shin Gambira, now known as Nyi Nyi Lwin after disrobing, was freed in an amnesty in January but says he has been rearrested several times since then.
He now stands accused of breaking into monasteries.
Human rights groups have expressed concerned about some activists being sent back to jail.
Since the end of military rule in 2011, hundreds of dissidents have been freed. But it is estimated that at least 300 are still in jail.
Previously sentenced to 68 years in jail for his role in the 2007 protests led by monks, he was one of hundreds released under a government amnesty in January.
Nyi Nyi Lwin told BBC Burmese that his latest detention was really about stopping him taking part in protests over a violent police crackdown on protests against the expansion of a copper mine in northern Burma.
The Monywa copper mine is a joint venture between a Chinese company and the Burmese military.
"The government fears [I will] lead the monk protest. Actually, there are many monks who can lead the protest," he told BBC Burmese.
"They released me yesterday [Monday] on bail of $4,700. We have not got a clear picture of my case yet," he also told Agence France-Presse News agency on Tuesday.
"I think they released me because of the calls of local and international democratic forces who stand for truth and justice," he added.